McKEON Smoke & Fire Curtain Systems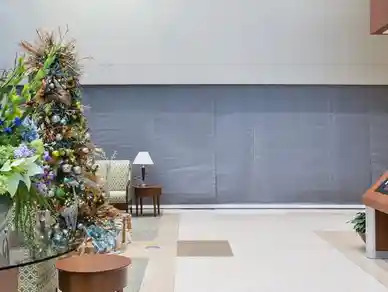 The D200 is an opening protective made of a flexible fire-rated fabric that is US laboratory tested and approved for unlimited widths.
A first in the industry, the D200 carries a 20-minute rating UL10B and UL10C without hose stream, UL 10D for up to 3 hours, and UL 1784 for smoke and draft.
FireFighter D200 is approved for use in multiple applications – whenever the 20-minute UL 10B or UL 10C rating is required for a fire door or shutter used to provide protection for an opening of any size in a rated wall.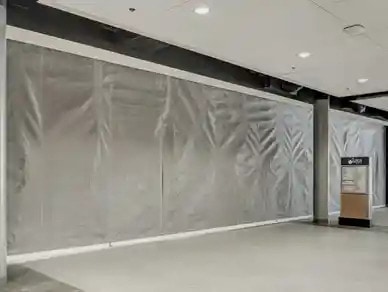 The D200E offers a patented and burn-tested egress feature that complies with exiting requirements of the building codes.
The FireFighter D200E Series is the only protective fire curtain assembly on the market with a 20-minute rating UL10B and UL10C without hose stream, up to 3-hour UL 10D rating, UL 1784 smoke and draft rating and integral conforming swing egress door(s).
"The First Responder" is truly a first – going beyond where others leave off!
The D200E incorporates an egress feature that complies with the current model building codes as an opening protective placed in the required path of egress.
Swinging doors as outlined in the egress sections of the model codes are the basis of design and acceptance for the FireFighter D200E fire curtain and its many applications where building occupant egress is required.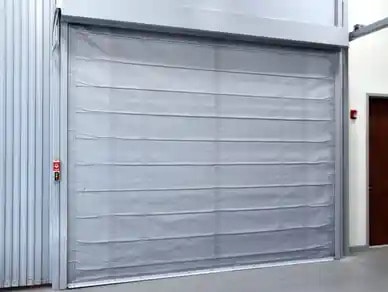 The D400 is a one-of-a-kind rolling curtain shutter that has been tested and labeled to UL 10B for 90 minutes with hose stream and UL 1784 smoke & draft.
Unparalleled in the market, it is designed to protect openings in any wall rated up to 2 hours – including Fire Walls and Fire Barrier Walls!
A simple but unique configuration of textile layers permanently joined together as one unit and stored on a barrel in the head box.
When deployed, the D400 rolls down as if it were a rolling steel door! A substantial opening protective ready to withstand heat, fire, smoke and the ultimate integrity test – the hose stream.
Contact us today for the smoke & Fire curtain systems for your next project